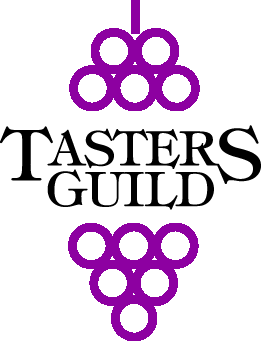 INTRODUCTION
TO TASTERS GUILD
Tasters Guild is a national society for wine and food lovers headquartered in Grand Rapids, MI. Founded in 1987, it has grown to incorporate over 100 local membership guilds, as well as a network of retail, restaurant, hotel, winery, and food industry associates. The Ann Arbor guild, Number 37, is a charter member of the organization. Dick Scheer is its founder and director, and his business, Village Corner, is its retail affiliate. Benefits of membership include:
1) Invitation, at the reduced member rate, to approximately 12 annual Ann Arbor Tasters Guild events, which range from walkaround tastings of anywhere from 50 to 100 wines to buffet and dinner events that explore the compatibilities of wines with foods.The 2015 season included Wine Importer and Winemaker Dinners at Grange Kitchen with Vias, Esprit du Vin, Mazzolino, and Juslyn,Wine Importer and Winemaker dinners at Terry B's with Europvin, Clos Figueres, HB Wine Merchants, Vintus, and Mas de Daumas Gassac andrenewal Cotes du Rhone wine tasting.
2) Invitation to the annual Tasters Guild International Wine Judging and Convention held in April, Consumers Wine Judging and Convention in August, and welcome at other Tasters Guild chapter events throughout the country.
3) Member discounts from Tasters Guild industry affiliates, including special hotel and meal rates and wine-list discounts. All these considerations are listed in the annual Tasters Guild Network Directory sent to each member and available online at tastersguild.com..
4) Invitation to Tasters Guild-sponsored wine cruises and wine-country tours. Local members (including Dick & Sally Scheer, chapter directors) who have taken one of these cruises are eager to go again!
5) Access to online QRW, the successor to QUARTERLY REVIEW OF WINES, chock-full of tasting reviews, plus 6 issues of Ann Arbor Tasters Guild's newsletter, plus 2 issues of the Tasters Guild Journal.
6) Automatic membership in Ann Arbor Wine Club. For more information about this membership benefit, see the Introduction to Ann Arbor Wine Club below.
INTRODUCTION
TO ANN ARBOR WINE CLUB
In 1991 Dick Scheer formed the Ann Arbor Wine Club to continue the wine-tasting and wine-buying activities undertaken from 1973-1991 under the aegis of the Wine and Food Society of Ann Arbor. The main program consists of a series of 6 annual offerings (January, May, May, November, August, November) of approximately 8 dozen wines each (plus a sprinkling of other foods and beverages, and wine accessories) accompanied by a tasting of most of the items on offer. Village Corner, the purveyor, offers exceptional discounts on these products in consideration of the cost efficiency of the program and buying clout of the group.
The procedure for each offering goes as follows:
WEEK I: Members receive a newsletter with a listing and description of each item on offer, plus a tasting announcement and order form. Ann Arbor Tasters Guild's newsletter and Dinner and Tasting announcements accompany this mailing.

WEEK II: Early in the week there is a scheduled tasting of most of the items on offer. No reservations are necessary; attendance is optional, of course. There is a small charge to cover the cost of the event, payable to Ann Arbor Wine Club; guests may attend at a surcharge.
At the end of the week all orders accompanied by payment are due at Village Corner. Payment should be made by cash, check, most ATM cards (in store only), Visa, Mastercard, Discover or AmEx card directly to Village Corner, 1747 Plymouth Rd, Ann Arbor 48105. Ann Arbor Wine Club is a separate entity that does not buy and sell wine.

WEEK III: Village Corner accumulates the wines and fills members' orders in the sequence in which they were received. Late orders are accepted this week at a 2% surcharge.

WEEK IV: AAWC members pick up their orders at Village Corner (storage and delivery options are available). If certain items are sold out, Village Corner will offer optional substitutes of similar style and equal or greater value.